Features of Website Widgets
All our website notification widgets come with highly cuztomizable features. The most obvious one is to customise the title, content and icon images.
We also give you advanced features to change the colors, configure when to trigger the notifications and where to display them.
Notification Widget Triggers
You can also specify when to display the information notification widget: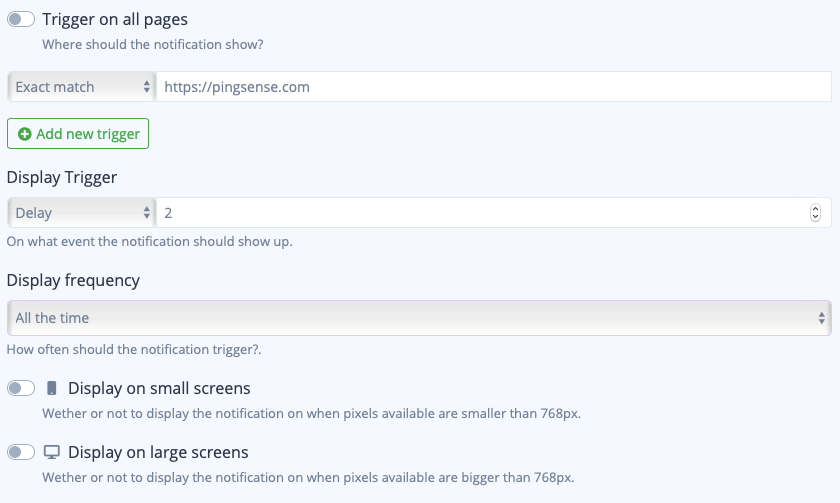 Trigger on all pages
Or Trigger on Specific Pages with URL and conditions

Exact Match
Contains or Does not contain
Starts with or Does not start with
Ends with or Does not end with

Display Trigger

Delayed after specified seconds
Exit Intent
Scroll Percentage

Display Frequency

All the Time
Once per visit session
Once per browser

Display on Small Screens
Display on Large Screens
Notification Widget Display
It is very easy to specify the time and portion of notification widget display.

You can specify the how long you want to display the notification. If you want to display it forever(without time limit), set the value to -1.
You can also specify the display position of the notification widget on the screen with options below:
Top Left
Top Center
Top Right
Middle Left
Middle Center
Middle Right
Bottom Left
Bottom Center
Bottom Right
We also give you option to decide whether you want to display a close button or not. For the best user experience we suggest you to enable the close button.
Joining Digital Avatar community will give you an option to disable "Powered by UXgrowth" branding.
Customise Notification Widgets
We give you options to easily customise the look & feel of website notifications widgets to suite your brand.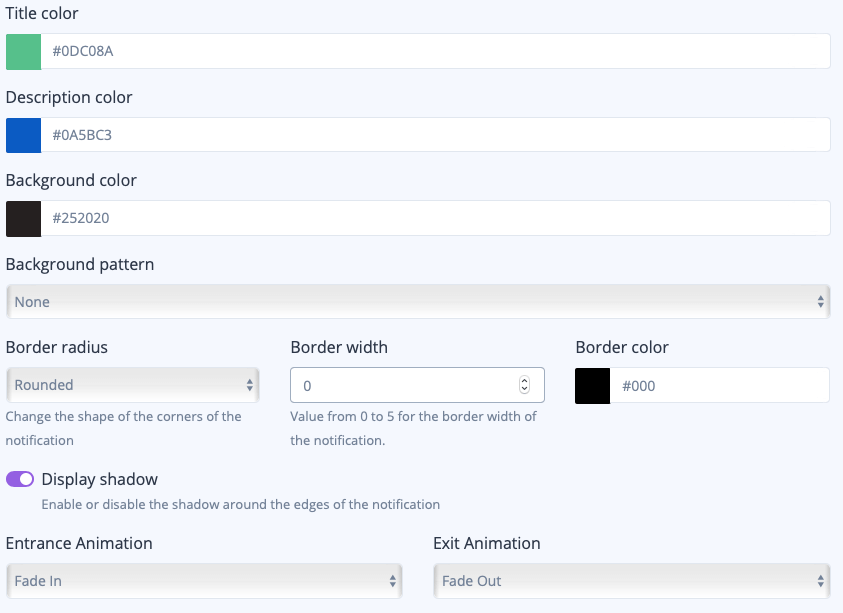 Firstly you can set colours for title, description and background. We have nice colour picker tool to help you or you can simply specify the hex color code.
You also get to choose from different background patterns:
None
Jupiter
Wavy
Hexagons
Autumn
Shapes
Anchors
Plus
Bubbles
Wiggle
You can set border width, border color and border radius(rounded or straight). You can also enable or disable the shadow around the edges of the notification
You can also choose from different Entrance Animations:
Fade In
Slide In Up
Slide In Down
Zoom In
Bounce In
And Exit Animations:
Fade Out
Slide Out Up
Slide Out Down
Zoom Out
Bounce Out
With these features we hope you can do plenty of customisations.